Yakima Car Accidents Caused By Texting While Driving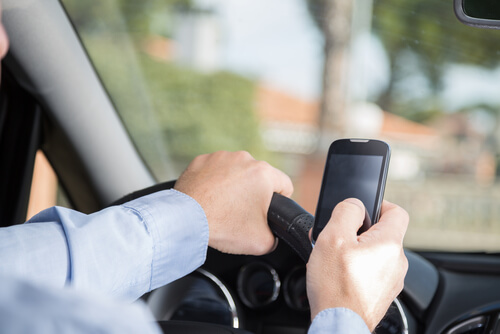 Distracted driving is a hot topic across the country right now. The dangerous practice causes car accidents that can lead to injury or death. Distraction.gov defines distracted driving as any activity that can divert attention from the task of driving. But texting, according to the site, is the most alarming distraction because it requires visual, manual and cognitive attention from a driver who should be focused on driving.
In 2010, 3,092 people were killed in crashes involv­ing distracted drivers, according to the National Highway Traffic Safety Administration (NHTSA). An estimated additional 416,000 were injured in motor vehicle crashes involv­ing distracted drivers. Of those injured in distraction-affected crashes, the NHTSA estimates 24,000 were injured in crashes that involved the use of cell phones at the time of the crash.
People who are injured by car accidents caused by texting while driving or other forms of distracted driving in Washington State have legal rights to seek compensation. The Yakima car accident attorneys at the Mariano Morales Law work on a wide variety of cases, including accidents related to texting while driving.
Contact the Mariano Morales Law
If you have been the victim of a car accident related to texting while driving or any other form of distracted driving, contact the Washington State car accident lawyers at the Mariano Morales Law for a free initial consultation. Call us now at (509) 853-2222 or fill out our online contact form.
We represent injured people in Yakima, the Tri-Cities (Richland, Pasco and Kennewick), Wenatchee, Grant County and Chelan County.
Why Is Texting While Driving So Dangerous?
While much of the research on texting and other cell phone use while driving is in the early stages, it's clear that texting and driving do not mix.
Experts have made a comparison between drinking and driving and texting and driving, with some believing that texting is actually more dangerous than impaired driving. The popular magazine Car and Driver conducted a small test to see whether driving with a blood-alcohol level of 0.08 (the legal limit) or driving while texting caused the driver to react more slowly. The results of the test showed that the driver who was texting had a significantly slower reaction time than the driver who had been drinking.
According to the NHTSA, 13 percent of fatalities and 6 percent of injuries in distraction-affected crashes occurred when at least one of the drivers was using a cell phone. Use of a cell phone includes talking/listening to a cell phone, dialing/texting on a cell phone, or other cell-phone-related activities.
The statistics are more alarming for teenage drivers. Eleven percent of all drivers under age 20 involved in fatal crashes were reported as being distracted at the time of the crash, and 19 percent of those drivers were distracted by the use of cell phones, according to NHTSA.
A study from the Pew Research Center showed that 40 percent of all American teens say they have been in a car when the driver used a cell phone in a way that put people in danger.
Washington's Laws on Texting and Driving
The law in Washington State completely bans the use of any handheld device by drivers, meaning they can't talk or text on a handheld cell phone while driving in the state. Novice drivers can't use any kind of cell phone, including hands-free devices.
These laws do not always prevent motorists from texting while driving. But the laws do increase the penalty if a driver is caught and make a driver who is driving while texting more likely to be found negligent if he or she is involved in a car accident in Washington State. Even if a driver was not charged with breaking the cell phone law, they could still be held responsible for causing an accident if the evidence shows that their texting was a factor in the crash.
Injured By A Texting Driver? Call Our Yakima Car Accident Lawyers Today
If you have been involved in a car crash in Washington and you believe that texting played a part in the accident, contact the Yakima texting accident attorneys at the Mariano Morales Law for a free initial consultation. Call us now at (509) 853-2222 or fill out our online contact form. If we handle your case, we receive payment only if we obtain a settlement or verdict for you.