Multi-Vehicle Accident Lawyers In Yakima, WA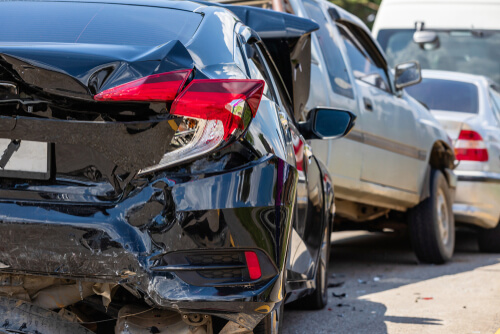 Chain-reaction accidents involving a number of vehicles are a frequent occurrence on the busy freeways, highways and city streets in the Yakima Valley. Because multiple drivers and insurance companies are involved, sorting out who is responsible for multi-vehicle accidents can be a complex task.
The Yakima car accident lawyers at Mariano Morales Law are prepared to help you get the maximum compensation you deserve if you have been seriously injured in a multi-car or chain-reaction accident. Let our experienced attorneys deal with the insurance companies while you focus on recovering from your injuries and putting your life back together.
The Yakima Valley multi-vehicle accident attorneys at Mariano Morales Law help victims and their families in Yakima, the Tri-Cities (Richland, Pasco and Kennewick), Wenatchee, Grant County and Chelan County. Contact our legal team today by calling (509) 853-2222 or by using our online contact form for a free initial consultation. Remember that we collect nothing unless we secure a settlement or verdict for you first.
Yakima Valley Multi-Vehicle Car Accidents
According to the National Highway Traffic Safety Administration (NHTSA), almost half of all fatal traffic accidents in Washington each year involve more than one vehicle. In some cases, multiple vehicles are involved in the accident. Typically, an initial collision occurs, and then that crash causes a chain reaction that ultimately involves three or more vehicles.
Multi-vehicle accidents can happen as the result of a virtually endless number of possible scenarios. However, there are some common situations that frequently lead to chain-reaction accidents, including the following:
Rear-end collision — By far the most common way for a multi-vehicle collision to begin, rear-end accidents represent over 30 percent of all accidents in Washington, according to the Washington State Department of Transportation. While not all of these go on to cause a chain-reaction collision, many do. This type of chain-reaction collision frequently occurs in heavy traffic when one vehicle fails to stop in time to avoid colliding with the vehicle in front of it. That vehicle then hits the car in front of it and so on, or other vehicles may hit the rear of the car that initially failed to stop in time. Rear-end collisions may also occur when a driver is required to stop suddenly and the vehicle behind him or her fails to react in time to prevent a collision. When this occurs on a freeway at high speeds it can be particularly dangerous.
T-bone collision — These collisions typically take place at an intersection when a driver fails to stop for a red light or stop sign and then "T-bones" a vehicle passing through the intersection. Because there are often other vehicles behind the first car, a chain-reaction crash may result.
Head-on collision — A head-on collision may cause a chain reaction if the impact of the initial collision causes one, or both, of the vehicles to spin into oncoming traffic where other vehicles then collide with one of the original two vehicles.
Determining Fault in a Multi-Vehicle Accident
The victim of a car crash in Washington may be entitled to compensation for the injuries that result from the collision if another party was negligent and that negligence caused, or contributed to, the crash. Negligence is the legal term used to refer to fault or blame.
In a multi-vehicle collision, determining fault is usually more complicated than in other types of accidents. Often, more than one party shares the blame for the accident. Washington is one of many states that use a comparative negligence approach to car accident lawsuits. In essence, this means that numerous parties could be held partly responsible for a victim's injuries.
For example, in a four-vehicle chain-reaction collision, vehicle A might be 50 percent negligent; vehicle B, 30 percent negligent; vehicle C, 10 percent negligent; and vehicle D (the victim's vehicle), 10 percent negligent. In this case, the victim could recover 90 percent of the damages he or she suffered in the accident from the drivers of vehicles A, B and C.
Determining negligence is a key step in any car accident. In a multi-vehicle accident, it can be even more important and considerably more complicated.
Hurt in a Multi-Vehicle Accident? Our Yakima Valley Lawyers Can Help
If you have been injured in a multi-vehicle accident, you may be entitled to compensation for your injuries. Because of the complex nature of chain-reaction accidents, the services of an experienced Washington State multi-vehicle accident attorney are crucial. Because the law allows a victim only a specific amount of time to file a claim for injuries or for a wrongful death, you should talk to an experienced multi-vehicle accident attorney today.
Contact the Yakima car accident attorneys at the Mariano Morales Law for a free initial consultation. Call us now at (509) 853-2222 or fill out our online contact form.