Rear-End Collision Attorneys in Yakima WA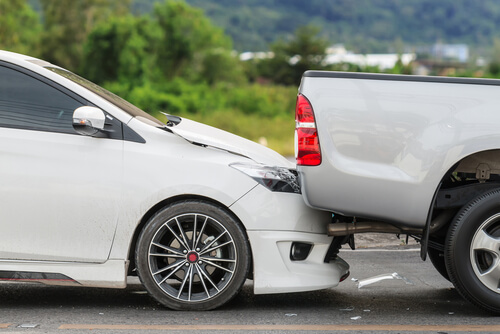 A rear-end collision can cause serious difficulties for victims and their families. Whether you suffered relatively minor injuries in the accident or were the victim of a catastrophic accident, your life has been forever changed by the actions of another motorist. The Yakima car accident lawyers at Mariano Morales Law know what you are going through. We are here to help you get the maximum compensation you deserve for a rear-end accident caused by someone else's negligence.
If you have been injured in a rear-end collision in the Yakima area, contact the Washington State rear-end collision lawyers at the Mariano Morales Law for a free initial consultation. Call us now at (509) 853-2222 or fill out our online contact form.
We represent injured people in Yakima, the Tri-Cities (Richland, Pasco and Kennewick), Wenatchee, Grant County and Chelan County.
Rear-End Accident Statistics and the Law
According to the National Safety Council, over 2.5 million rear-end accidents are reported each year throughout the United States, making them the most common type of car accident. According to statistics compiled by the Washington State Department of Transportation, vehicular accidents caused 2,474 serious injuries and 43,988 minor injuries in 2010. In addition, 458 people lost their lives in motor vehicle crashes that year. Many of these deaths and injuries were caused by rear-end collisions.
In Washington, the law presumes that the driver in the back of a rear-end collision is responsible for causing the crash. The law takes this approach because the person in the back is generally in a better position to prevent the accident from happening by maintaining a safe distance behind the car in front. Although the law creates a presumption, the driver in back can rebut that presumption if enough evidence exists to convince a court that the driver was not, in fact, the negligent party in the collision.
Rear-End Collision Injuries
Rear-end collisions are often referred to as "whiplash collisions" because of their propensity to cause whiplash injuries. Whiplash is a hyperextension and flexion injury to the neck that frequently results from being hit or struck from behind. In a whiplash injury, the victim's body is pushed forward rapidly while the head remains behind momentarily. Ligaments and muscles around the spine are stretched or torn because of this rapid jerking movement. The head is then thrown forward as the initial movement stops. The muscles and ligaments often overcompensate when moving forward, which causes further injury.
A whiplash injury can be very painful and may cause the victim to be incapacitated for a number of days after the accident. Along with whiplash injuries, there are other, more serious, injuries that are common in rear-end accidents, including:
Fatal injuries — If a victim dies from injuries sustained in a rear-end collision, the surviving family members may be entitled to recover damages from the at-fault driver in a wrongful death lawsuit.
Head trauma — A victim's head may hit the steering wheel or impact another part of the vehicle's interior, causing a traumatic brain injury. Brain damage of this sort can result in a lifetime of impairment.
Back and spine injuries — A victim may suffer herniated or ruptured discs or other serious injuries to the back and spine in a rear-end collision. Paralysis is the result in the worst cases.
Facial injuries — Broken glass or an impact with the steering wheel can cause lacerations or even permanent disfiguration of the face.
Broken bones – Bones in your arms, legs, ribs and other parts of the body may be broken because of the force of the impact.
What Causes Rear-End Collisions?
It takes only a moment of carelessness to cause a lifetime of suffering. A Yakima area rear-end collision can occur for a variety of reasons; however, there are some common factors, such as:
Distracted driving — Anything that takes a driver's eyes, hands or thoughts off of the job of driving is a distraction. Common causes of distracted driving include texting or talking on a cell phone, eating, grooming, and talking to other passengers in the vehicle. When a driver's eyes are off the cars in front, there might not be enough time to avoid a collision if traffic comes to a sudden halt.
Tailgating — Following too closely is a major cause of rear-end collisions.
Speeding/reckless driving — If a driver is speeding or driving recklessly, then he or she may not have enough time to stop if the need arises.
Driving while drowsy — A driver who has not had enough sleep, or who is under the influence of drugs or medication that cause drowsiness, is statistically as dangerous as a driver who is driving while intoxicated. Some of the most serious rear-end accidents are caused by fatigued drivers because they might never apply the brakes if they are not alert.
Drugs and alcohol — Driving under the influence of alcohol is certainly a contributing factor to many rear-end collisions. Even a driver who is under the influence of over-the-counter or prescription medications may cause a collision
Weather conditions — The weather in Washington State is unpredictable. If a motorist is not driving appropriately for the conditions, he or she might not be able to stop in time to avoid an accident.
Vehicle defects — Sometimes the vehicle itself is the cause of an accident. Faulty brakes – or brake lights – could be a factor in a rear-end collision. Worn tires without enough tread also make it harder to stop.
Hurt in a Rear-End Collision? Call Our Yakima Car Accident Lawyers Today
If you have been involved in a rear-end collision in Washington State, contact the Yakima car accident attorneys at the Mariano Morales Law for a free initial consultation. Call us now at (509) 853-2222 or fill out our online contact form.