Rollover Accident Attorneys in Yakima WA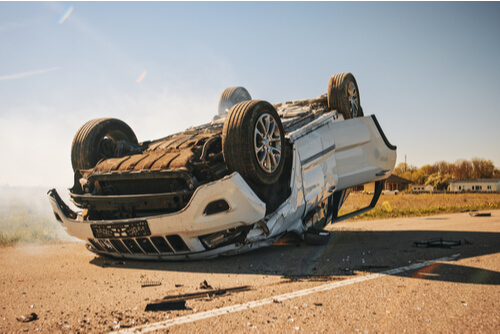 If you have been in a rollover car accident, chances are you suffered serious injuries as a result. The Yakima Valley car accident attorneys at Mariano Morales Law understand that along with the physical injuries you suffered, the event likely caused serious emotional trauma as well. Although it cannot erase the psychological trauma caused by the accident, the law does provide a mechanism that could allow the victim of a rollover accident to recover compensation if someone else was at fault.
If you have been injured in a rollover collision in the Yakima area, contacting an experienced car accident lawyer is an important first step toward recovering compensation for your injuries. The Yakima personal injury lawyers at Mariano Morales Law help rollover accident victims and their families in Yakima, the Tri-Cities (Richland, Pasco and Kennewick), Wenatchee, Grant County and Chelan County.
Contact us today by calling (509) 853-2222 or by using our online contact form for a free initial consultation. Remember that we do not charge you anything unless we secure a settlement or verdict in your favor. Our firm also helps clients deal with the property damages to their cars at no cost to them. We are the only law firm in the Yakima Valley that provides this free service.
Rollover Accident Facts and Figures
Rollover accidents are probably more common than most people realize. According to the National Safety Council, over 10,000 people are fatally injured in rollover accidents each year. A study released by the National Highway Transportation Safety Administration (NHTSA), found that during a 10-year period ending in 2000, vehicle deaths as a result of rollover accidents in light trucks, including SUVS, rose 35 percent. The report also concluded that:
Nearly three-fourths of occupants killed in rollover crashes were not using restraints, and slightly less than two-thirds of them were completely ejected from the vehicle.
Most fatal rollover crashes are single-vehicle crashes.
Elevated blood alcohol contents are associated with fatal rollovers, particularly with fatal single-vehicle rollovers.
Rollover crashes are more likely to result in fatalities than other types of crashes.
Rollover crashes constitute about one-fifth of all fatal crashes.
The number of fatal SUV rollovers has more than doubled since 1991, growing faster than any other class of light trucks.
Most experts agree that the reason SUVs are disproportionately involved in rollover accidents is that the height of the vehicle changes the center of gravity, making the vehicle more likely to flip. Although many vehicle manufacturers have made attempts to improve the safety of SUVs in light of the concern over their involvement in rollover accidents, thousands of victims continue to die each year as a result of rollover accidents.
Why Are Rollover Accidents So Dangerous?
Any type of accident can result in fatal injuries to the occupants of the vehicle. However, as the NHTSA study found, rollover accidents are more likely to result in death than any other type of accident. The primary reason this is true is that an occupant of a vehicle in a rollover accident is more likely to be ejected from the vehicle during the crash. Even if a victim is not completely ejected, injuries sustained while the victim is being thrown around inside the vehicle can be deadly.
Use of a seat belt certainly increases the chance of surviving a rollover accident. However, serious injuries can still result from a rollover accident even if the victim was buckled in. In a typical rollover accident, a victim is violently thrown around in the vehicle, increasing the likelihood of a victim's hitting his or her head during the crash and sustaining serious injuries.
Common Rollover Collision Injuries
Fatal injuries in a rollover accident are typically the result of being ejected from the vehicle and suffering a fatal head trauma upon landing outside the vehicle. Non-fatal injuries that are common in a rollover accident include:
Head trauma — As the victim's head is thrown back and forth within the vehicle it may hit the steering wheel, the dash or another hard surface in the vehicle.
Neck, back and spine injuries — Herniated or ruptured discs as well as other spinal injuries may occur as the spine is forced to flex beyond its normal range. These can result in paralysis.
Facial injuries — Broken glass or a direct impact with something inside the vehicle can leave a victim permanently disfigured.
Airbag injuries — Although airbags do save lives, they can also cause burns, sprains, contusions or other injuries when they deploy.
Rollover Collision Causes
Some common factors in rollover accidents include:
Distracted driving — A driver who is distracted by a cell phone or other distraction may end up making last-second over-adjustments that cause a rollover.
Speeding/reckless driving — Speeding was found to be a major factor in rollover accidents in the NHTSA study.
Drugs/alcohol — As the NHTSA study found, a driver who is driving impaired is more likely to make unsafe steering adjustments that can cause a rollover crash.
Road conditions — The basic design of a road can increase the chance of a rollover if the road contains a particularly sharp curve.
Weather conditions — Conditions such as rain, ice or snow can contribute to a rollover accident.
Vehicle defects — Certain vehicles have been considered defective in their design because of their propensity to roll over.
Injured in a Rollover? Call Our Yakima Car Accident Lawyers Today
As the victim of a rollover accident, you may be entitled to compensation for your injuries if the crash was caused by the negligence of another party. If you are a surviving family member of someone who was killed in a rollover collision, you may be entitled to compensation through a wrongful death claim.
Contact an experienced rollover accident attorney today to find out what legal options you have. The Yakima Valley personal injury attorneys at Mariano Morales Law help victims of rollover collisions and their families. Contact us today by calling (509) 853-2222 or by using our online contact form for your free initial consultation. We receive payment only if we receive a settlement or verdict for you.