Single-Vehicle Accident Attorneys In Yakima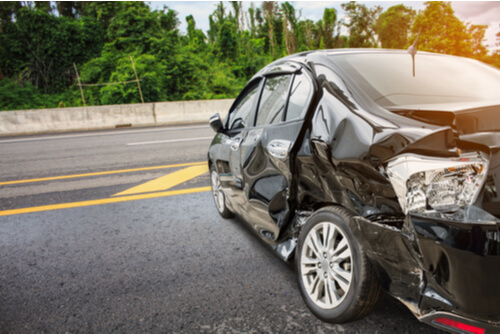 According to the Insurance Institute for Highway Safety (IIHS), single-vehicle collisions represent over half of all car accidents nationwide. Statistics show that Washington State follows the national trend. In 2010, there were 311 fatal injuries as a result of collisions throughout the state of Washington. Of those fatalities, 163, or 53 percent, were the result of a single-vehicle crash.
What Causes Single-Vehicle Collisions?
As is the case with all types of accidents, an endless number of scenarios can lead to a single-vehicle collision. Some common reasons why single-vehicle collisions occur include:
Impact with an object in the road — This could mean running into an object that has fallen off of another vehicle or hitting a median, for example.
Distracted driving — Talking or texting, grooming, eating, or talking to passengers often causes a driver to run off the road or collide with a median.
Drowsy driving — Nodding off at the wheel can cause a driver to veer off the road and crash.
Impaired driving — Drug or alcohol use can cause a driver to lose control and crash.
Road conditions — Rain, ice, snow and fog can all contribute to a single-vehicle accident.
Mechanical defect/failure – A problem with the vehicle's brakes, tires or steering, for example, could result in a single-vehicle collision.
The National Highway Traffic Safety Administration (NHTSA) puts single-vehicle crashes into two categories — run-off-road (ROR) crashes and on-road (OR) crashes. In a recent report by NHTSA, the agency issued the following conclusions relating to single-vehicle crashes:
Alcohol or drug-impaired drivers are more likely to be involved in an ROR crash than a sober driver. In the study, 86.5 percent of impaired drivers were involved in an ROR crashes, compared to just 58.3 percent of their sober counterparts.
Over 90 percent of speeding drivers were involved in an ROR crash, compared to 59.5 percent of non-speeding drivers.
ROR crashes are more likely to take place on curved roadways, single-lane roads and rural roads.
ROR crashes occur more often during adverse weather conditions and nighttime driving.
Fatigue and distracted driving contribute to a significant proportion of ROR crashes.
Young drivers and male drivers are more likely to be involved in an ROR crash than their older or female counterparts.
Some examples of negligence that could contribute to a single vehicle accident include:
Improperly maintained roads — If a road was not properly maintained by the government agency responsible for design, repairs and maintenance, then it could be held responsible for any injuries caused by that negligence.
Manufacturer defects — When a manufacturer puts a defective product into the stream of commerce, and that defect causes injuries, the manufacturer is potentially liable.
Actions by another motorist — If, for example, a truck driver failed to properly tie down the load being carried and something fell off the truck causing you to crash, the truck driver could be held accountable.
Driver error — A wide range of driver behaviors can contribute to a single-vehicle collision. When driver error is responsible for the crash, passengers in the vehicle who were injured may have a cause of action against the driver. That is true even when the driver is a friend or a relative.
Hurt in a Single-Car Crash? Get Help from Our Yakima Car Accident Lawyer
If you have been injured in a single-vehicle collision and someone else was at fault, you could be entitled to compensation for the injuries you suffered.
To learn more, contact a Yakima Valley car accident attorney today at the Mariano Morales Law by calling (509) 853-2222 or by using our online contact form. Your initial consultation is free of charge. If we handle your case, we receive payment only if we obtain a settlement or verdict for you.