Truck Accidents Related to Weather and Road Conditions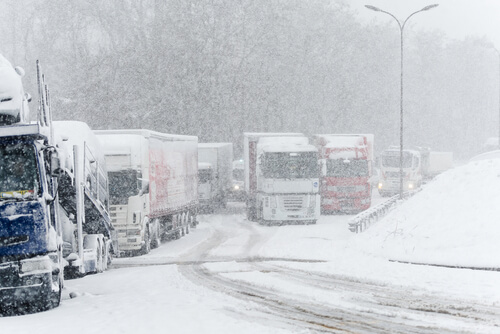 Inclement weather and poor road conditions affect large commercial trucks differently from passenger vehicles. Heavy trucks need longer stopping distances than cars. They can get into accidents on slick roads or in conditions of poor visibility more easily than passenger cars.
Truck drivers should not only take safe-driving precautions in inclement weather –slow down and leave more space, for example – but they should also be prepared for hazardous conditions. Truckers have a responsibility to drive safely on busy roadways, in work zones and in other potentially hazardous road conditions.
The Mariano Morales Law can help if you've been injured in an accident in Washington State that was caused by a truck driver's failure to adjust to bad weather or road conditions. Contact us now for a free claim review.
Weather and Road Conditions Truckers Face
Truck drivers often can't just stay home if the weather is bad or traffic is heavy. But truckers have a responsibility to safely operate their vehicles in bad weather or poor road conditions.
Truck drivers who are not prepared or reckless regarding hazards presented by weather or road conditions can get into serious accidents.
Truck drivers in Washington State must adjust to condition such as:
Heavy rain – Rain fall and wet pavement are responsible for more than 60 percent of all weather-related fatalities involving trucks and other commercial vehicles, the Federal Motor Carrier Safety Administration says. Roads wet with rain can double stopping distances. Rainfall also causes delays, which may increase the risk of collisions.
Snow and ice – Heavy snow causes loss of traction, loss of visibility and other driver control problems, as well as delays and road closures. Many states require large trucks to use tire chains in snowy conditions.
Low visibility – Truckers are subject to impaired visibility due to intense storms, coastal and ground fog, smog, dust, road spray and glare. Accidents caused by poor visibility can be more serious than others, since a trucker may fail to brake or swerve. Heavy fog or snow is often to blame for multi-vehicle pileups.
High winds – Crosswinds, headwinds and tailwinds greater than 25 mph can make high-profile vehicles instable and hard to steer. Trucks are particularly vulnerable on interstates, in mountain passes and when crossing open plains.
Work zones – Trucks have more accidents in highway work zones than other vehicles, the FMCSA says. It's important for truckers to be alert and prepared to stop in a work zone. Trucks should stay in a designated lane throughout a work zone. The FMCSA recommends avoiding work zones altogether by using alternate routes when possible.
Truck Drivers Should Be Prepared for All Road Conditions
Road conditions are not within a truck driver's control. But a trucker who does not prepare and adjust to bad weather or other dangerous road conditions may be held accountable if his or her negligence results in an accident.
Truck drivers have a variety of sources to keep up with weather and road conditions, including:
511 phone system. Washington State's 511 system, which is also available on the Web, provides information about road conditions, weather conditions, road construction and detours, mountain pass conditions, I-90 and I-5 express lane status, access to Oregon's 511 system, and more.
AM/FM radio.
Satellite radio. Traffic channels including a San Francisco / Seattle / San Diego channel.
Citizens' Band (CB) radio.
NOAA Weather Radio
Internet. WiFi access and Internet kiosks are increasingly common at truck stops and weigh stations.
A trucker who drives in bad weather, traffic congestion, a work zone or other challenging conditions should take such precautions as slowing down, leaving greater distance between vehicles ahead and limiting lane changes.
Get Help from a Truck Accident Lawyer in Yakima
If you have been involved in a truck accident in Washington State that you think may be related to the trucker's mishandling of weather or other hazardous road conditions, contact the Mariano Morales Law.
We investigate truck accidents to obtain compensation for clients who have been harmed. Call us now or fill out our online contact form for a free consultation about your legal options.
Sources