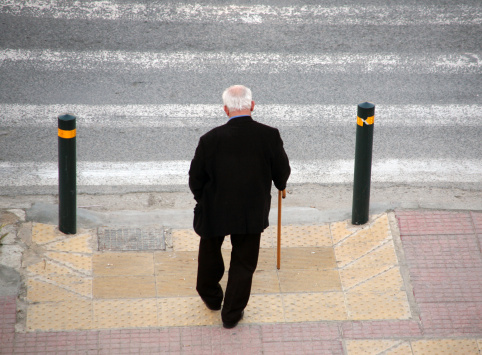 A recent government report concludes that elderly pedestrians are at much higher risk for fatal injuries in a traffic accident than their younger counterparts. In fact, pedestrians over age 75 are twice as likely to be killed in an accident as those under 34, based on data from 2001 to 2010, according to an account in U.S. News & World Report.
Historically, pedestrians have accounted for just under 12 percent of traffic deaths in the United States each year, according to the Centers for Disease Control and Prevention. As more people choose to walk for health or other reasons and as the population ages, the risk of accidents goes up.
Although the elderly generally walk less than younger people, they are much more susceptible to injury if they are struck. As we age, our bones become frailer and our overall health eventually declines – factors that can make even a minor traffic accident turn lethal. Elderly pedestrians are also more vulnerable to injuries because of age-related declines in mental function and vision.
The Centers for Disease Control and Prevention offers the following tips for pedestrians:
Cross the street at a designated crosswalk.
Be careful at intersections where drivers may fail to yield the right-of-way to pedestrians while turning onto another street.
Increase your visibility at night by carrying a flashlight and wearing reflective clothing.
Walk on a sidewalk if at all possible, but if you must walk in the street, walk facing traffic.
In addition, if you are an elderly pedestrian, be sure that someone knows your intended route and approximately how long you will be gone just in case something happens and you need help.
If you have been injured in a Washington State pedestrian traffic accident, or have lost a loved one as a result of one, you could be entitled to compensation. The Yakima Valley pedestrian traffic accident attorneys at Mariano Morales Law can help you get through the legal process. Contact the team today at (509) 853-2222 or use our online contact form for your free initial consultation.