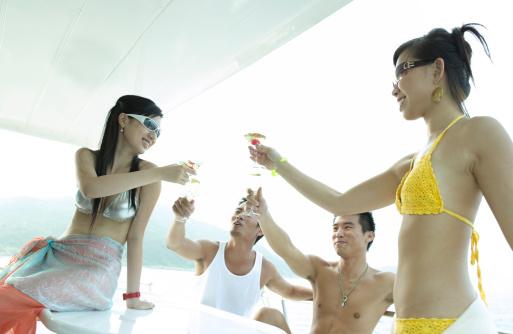 Important changes to the Washington State boating laws took effect on July 28. The news laws are aimed at keeping boaters safe by stiffening penalties for boating while under the influence, or BUI.
The new laws are the result of a collaborative effort by the State Parks Commission, along with its Boating Safety Council, NW Marine Trade Association, Recreational Boating Association of Washington, and Seattle Children's along with other leaders and boating advocates.
The State of Washington offers many opportunities to take to the water on numerous lakes or rivers or along the coastline. The popularity of boating, however, has led to 157 boating fatalities during the six- year period from 2005 through 2011, according to the Washington State Parks Boating Program. Alcohol is a factor in 30 percent of all boating deaths.
Under the new law:
A BUI conviction is a gross misdemeanor punishable by up to a $5,000 fine and 364 days in jail.
A law enforcement officer who has probable cause may request a boat operator to submit to a breathalyzer – just like the dry land counterpart used to check a motorist for drunk driving.
An operator who refuses to submit to the breathalyzer will receive a Class 1 civil infraction and may be fined up to $2,050.
An operator's refusal to take a breathalyzer test cannot be introduced at a subsequent criminal trial.
The legal limit for boating while under the influence is 0.08 – the same as the dry land threshold for driving under the influence.
The BUI laws apply to operators of both motorized and non-motorized boats.
Passengers are not prohibited from drinking alcohol while on a boat.
The legal limit for boating under the influence of marijuana is 5.0 nanograms, making the law consistent with Initiative 502, which made recreational use of marijuana legal in Washington State.
The new boating laws also cover areas such as boating safety. These include:
Rentals, like all other boats, must have safety equipment, such as life jackets, fire extinguishers and signaling devices. Rental companies must supply this equipment and cannot charge extra for the equipment.
Law enforcement officers have authority to cite someone for causing an accident even if they did not see the collision occur. This is the same authority that officers have at the scene of a motor vehicle accident on land.
If you have been injured or lost a loved one in a Washington State boating accident, you could be entitled to compensation for your injuries or your loss. The Yakima Valley personal injury attorneys at Mariano Morales Law can help you get through the legal process and make sure that the party responsible for your injuries or loss is held accountable. Call (509) 853-2222 or use our online contact form for your free initial consultation.
Sources:
Washington State Parks and Recreation News Release