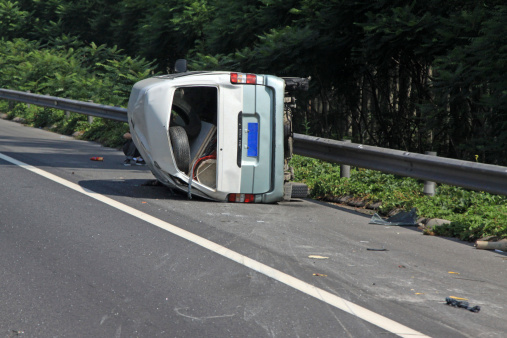 A 59-year-old Yakima man was killed recently in a two-vehicle collision on Interstate 82. The Yakima Herald-Republic reported that the man was driving a pickup that flipped over multiple times after it collided with a car driven by a 20-year-old Yakima woman. The woman and her three passengers, including a 2-year-old child, were not injured. The cause of the collision was not immediately reported.
High Risk of Injury
While there is a risk of a rollover in any type of vehicle collision, the risk rises in a light truck or SUV. According to the National Highway Traffic Safety Administration, fatalities resulting from rollover accidents increased 35 percent from 1990 through 2000. Moreover, a rollover accident is more likely to cause a fatality than any other type of collision. One in every five motor vehicle fatalities is the result of a rollover accident.
There are a number of reasons rollover accidents are so deadly. However, at the top of the list is the risk of ejection from the vehicle. Occupants are thrown violently throughout a vehicle that is rolling over. Unfortunately, the chance of survival drops markedly when a victim is ejected during a crash.
Occupants who are properly restrained in a vehicle are less likely to be ejected in a rollover crash; however, even a properly restrained occupant can be ejected if the restraint system malfunctions or the collision is violent enough. Even an occupant who is not ejected may suffer serious, or fatal, neck, back, or head injuries.
Compensation for Your Injuries
If you have been injured or lost a loved one in a Yakima Valley area rollover accident, you could be entitled to compensation for your injuries or your loss. The Yakima Valley injury accident attorneys at Mariano Morales Law can help you get through the legal process and make sure that the party responsible for your injuries or loss is held accountable. Contact the team today by calling (509) 853-2222 or by using our online contact form for your free initial consultation.