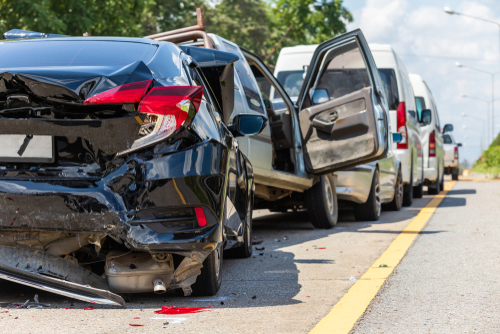 A recent collision involving a dump truck, a tractor-trailer and several passenger vehicles slowed traffic on Interstate 5 at the I-405 interchange. News accounts cited police reports that the dump truck was in the middle of the road and the tractor-trailer appeared to have jack-knifed. The cause of the accident was not immediately reported, though weather conditions may have played a role.
The Interstate 5 collision had all of the elements of a potentially fatal crash – multiple vehicles, commercial vehicles and poor road conditions. Amazingly, no one was seriously injured in the crash.
Multi-vehicle accidents can be extremely dangerous. And when one or more of the vehicles is a tractor-trailer or other large commercial vehicle, the odds of a serious injury increase. Tractor-trailers present a heightened risk of injury by virtue of their size and weight.
Poor road conditions are a contributing factor in many crashes throughout the State of Washington each year. The weather in Washington can be unpredictable. This time of year, as winter gives way to spring, one day can be calm and sunny with the next day bringing freezing rain and snow. In fact, conditions can change from hour to hour, making driving a challenge for even veteran drivers. Although law enforcement did not point directly to road conditions as a factor in the I-5 collision, a Washington State Department of Transportation spokesperson did note that the roads were "nasty" and getting worse.
Multi-vehicle accidents in the State of Washington present a challenge for those who are injured because it is often difficult to determine who was at fault. Although one vehicle may have initiated the crash, other vehicles may have contributed as well, making the initial collision worse. For a victim, this means that the assistance of an experienced multi-vehicle accident attorney may be needed to ensure that the negligent party (or parties) is held responsible for the victim's injuries.
If you have been injured or lost a loved one in a Yakima Valley area multi-vehicle accident, you could be entitled to compensation for your injuries or loss. The Yakima Valley multi-vehicle accident attorneys at Mariano Morales Law can help you get through the legal process and make sure that the party responsible for your injuries or loss is held accountable. Contact the team today by calling (509) 853-2222 or by using our online contact form for your free initial consultation.