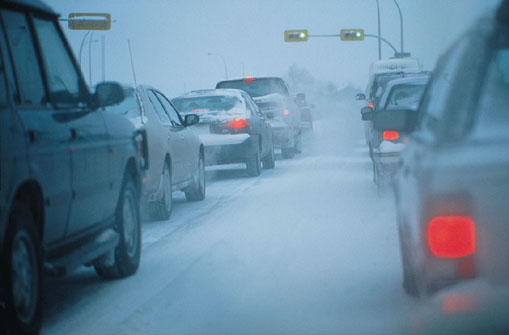 With Christmas and the New Year right around the corner, millions of Americans are planning visits with friends and family. The vast majority of holiday travelers go by passenger vehicle or bus. Last year more than 90 million people hit the roadways during the holiday season, and most traveled 50 miles or more.
If you plan to be among the holiday travelers this year, whether you are going across town or across the country, safety must be your primary concern.
The sheer number of vehicles on the highways leads to motor vehicle collisions. Alcohol-related crashes increase significantly from Thanksgiving through January 1. According to the National Highway Transportation Safety Administration, half of all traffic fatalities on New Year's Day are alcohol-related.
While drunk driving increases during the holidays, so does drowsy driving and distracted driving. People are often excited to see friends and family and may ignore signs of fatigue on a long road trip. In addition, motorists may be more likely to have taken over-the-counter medicine for colds that may cause drowsiness. And children and pets in a car can be big distractions.
Winter Safety Driving Tips
To lessen your chance of becoming a victim this holiday season, consider the following tips:
Do not get behind the wheel after drinking alcohol or taking any type of medication that causes drowsiness.
Avoid driving on January 1 if possible.
Plan frequent rests if driving a long distance.
Switch drivers every two hours or 100 miles.
Avoid driving at night.
Make sure children and animals are properly restrained in the vehicle.
Do not use handheld electronic devices while driving.
Pack an emergency kit for your vehicle before setting out on a trip.
Slow Down on Icy Roads
The holiday travel season got off to a deadly start in Washington State when icy conditions on Interstate 90 led to a multi-vehicle accident that killed one person and injured eight others.
The Washington State Patrol said the series of three accidents on Nov. 27 just southwest of Spokane were the result of motorists driving too fast for the road conditions. "People need to use caution," said Trooper Jeff Sevigney. "It's wintertime in the Northwest."
The chain reaction began when an eastbound pickup truck went out of control on an overpass and crossed over the median, clipped a tractor-trailer and struck a guardrail. The tractor-trailer crossed the median and collided with a Toyota Prius, causing the death of a passenger in the vehicle. The tractor-trailer also collided with a Subaru Outback before finally crashing through a guardrail, barreling down an embankment, and coming to rest on Medical Lake-Four Lakes Road.
The semi-truck was carrying heavy metal plates, which were spilled all over the freeway. The highway was blocked off before any additional collisions could occur.
Winter roads create optimum conditions for chain-reaction accidents. Icy, slick, or snow-covered road require drivers to slow down and increase stopping distance.
Speed is a factor in almost one out of every three fatal Washington state collisions. A motorist does not have to be exceeding the posted speed limit to cause a speed-related collision. Driving too fast for road conditions, even while traveling under the posted speed limit, is a leading cause of accidents.
As the winter holiday season gets into full swing in the state of Washington, motorists are urged to help keep everyone on the roads safe by adjusting their driving behavior to the road and weather conditions.
Sources: