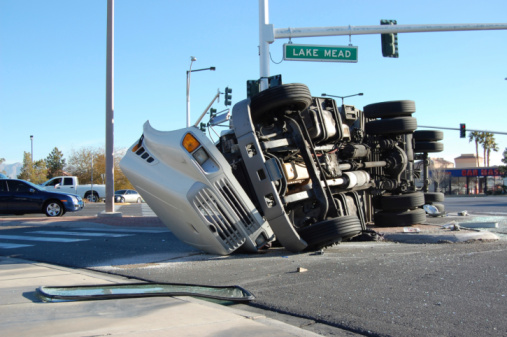 A woman was seriously injured recently when a tractor-trailer slammed into her vehicle on Interstate 5 near Seattle. According to the Seattle Times, authorities said the woman was driving a minivan when it broke down on the highway. The semi-truck then rear-ended the disabled minivan, causing both vehicles to veer onto the hillside along the highway.
The semi-truck spilled more than 20,000 gallons of a glue-like substance, forcing the closure of three lanes of I-5 for hours.
As a nation, we continue to be heavily dependent on tractor-trailers to transport products across the country. These giants of the roadway, however, present an inherent risk to everyone with whom they share the road.
A fully loaded tractor-trailer can weigh as much as 80,000 pounds. The average passenger vehicle, in contrast, weighs about 4,000 pounds. It is not surprising that 85 percent of fatalities and 80 percent of injuries from tractor-trailer accidents over a 10-year period were to people other than the drivers of the tractor-trailers, according to the National Highway Traffic Safety Administration.
The Dangers of a Breakdown
A tractor-trailer requires about the length of a football field to come to a complete stop under ideal conditions. So it is easy to see how dangerous it can be to break down on an interstate or highway.
If you find yourself in that situation, you can take actions that could save your life, including:
Move your vehicle to the shoulder if possible before it completely breaks down and stops running.
If you cannot move your vehicle, turn on your hazard lights and carefully exist the vehicle after checking for oncoming traffic.
If you are able to get to the shoulder with your vehicle, place emergency flares or triangles behind the vehicle so that oncoming traffic will recognize the need for caution.
Use a cellphone to call for help or walk as far over on the shoulder as possible to the nearest exit to locate help.
If you have been injured in a Yakima Valley area tractor-trailer accident, or have lost a loved one as a result of one, you could be entitled to compensation. The Yakima Valley personal injury attorneys at Mariano Morales Law can help protect your right to hold the party at fault accountable. Contact the team today at (509) 853-2222 or use our online contact form for your free initial consultation.