Bicycle Accident Attorneys in Yakima WA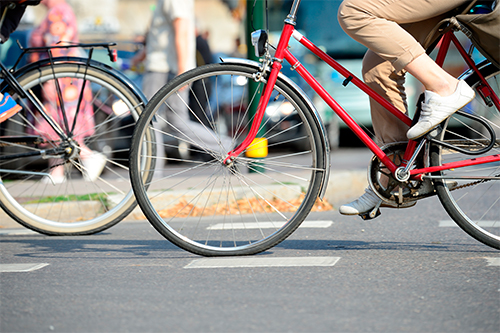 In Washington State and across the nation, more people are choosing to ride bicycles as a primary form of transportation or as a source of recreation. Whether you ride a bicycle for pleasure, exercise, practicality, or as an environmentally conscious alternative to a gas-powered vehicle, riding a bike should be safe. Unfortunately, that is not always the case.
Estimates reveal that over 57 million people nationwide regularly ride a bicycle, and the number is increasing. Unfortunately, this has led to an increase in the number of bicycle traffic accidents, particularly those involving motor vehicles. According to the National Highway Traffic Safety Administration (NHTSA), approximately 700 people are killed each year in bicycle accidents, and another 45,000 cyclists are injured each year throughout the country.
The good news for Washington bicycle riders is that, according to NHTSA, Washington ranked as the 11th lowest state for bicycle fatalities in 2007, and consistently ranks in the top half. Overall, between 2006 and 2011, bicyclist fatalities represented 1.7 percent of all traffic fatalities in Washington State. Even though Washington is safer for cyclists than some other states, even one injury or death caused by a negligent motorist is too many.
Risk Factors in Washington Bicycle Accidents
Anyone can become the victim of a Washington State bicycle accident. Some factors or characteristics appear to increase the risk of becoming a victim.
Data compiled by various sources indicates the following:
Males are much more likely to be injured in a bicycle accident. In fact, 90 percent of bicycle fatalities nationwide involve males.
While the majority of bicycle riding is done during daylight hours, 40 percent of fatal accidents occur at night.
Almost 60 percent of crashes involving bicycles occur on major thoroughfares.
In Washington State, the most common bicycle accident scenarios were the following: crossing roadways (35 percent of all accidents); riding against traffic (27 percent); and turning into the path of a vehicle (10 percent).
Speed matters. A rider who is struck by a vehicle going 30 mph has a 20 percent chance of dying, but if the motor vehicle's speed is increased just to 40 mph, the chance of the bicyclist's death jumps to 70 percent.
Washington State Bicycle Laws
Many motorists, and some cyclists, do not understand that a bicycle is considered a legal road vehicle. As such, a bicyclist has essentially the same rights and responsibilities as the driver of a motor vehicle.
Some of the most important laws in Washington State that apply to bicycles include:
RCW 46.61.755 — When riding on a roadway, a cyclist has all the rights and responsibilities of a vehicle driver.
RCW 46.61.770 — Cyclists may choose to ride on a path, bike lane, and shoulder or travel lane as suits their safety needs.
RCW 46.61.770 — Cyclists may ride side by side, but not more than two abreast.
Washington does not have a statewide bicycle helmet law, but numerous counties and cities do have laws requiring helmets. The Washington State Department of Transportation website provides a list of cities and counties that have helmet laws. However, even if you were not wearing a helmet as required by law in the community where your bicycle accident occurred, that should not affect your right to compensation if someone else was at fault in causing the crash.
Compensation for Bicycle Accident Injuries in Yakima
Studies indicate that as many as three-quarters of at-fault drivers are never held responsible for causing a bicycle accident. Hit-and-run bicycle accidents are all too common. However, even in these situations, it might be possible to recover compensation under your own auto insurance policy's uninsured motorist coverage.
If at-fault motorists act as they should and stop after causing a collision with a bicycle, victims may be able to collect compensation from the at-fault drivers just as they would in an accident involving only automobiles.
The Mariano Morales Law has been protecting the rights of individuals involved in serious accidents for over 30 years, serving clients in Yakima, the Tri-Cities (Richland, Pasco and Kennewick), Wenatchee, Grant County and Chelan County.
Contact the bicycle accident attorneys at the Mariano Morales Law today at (509) 853-2222 or by using our online contact form. Do not delay in contacting us to assess your legal rights. Your initial consultation is free of charge. If we handle your case, we receive payment only if we obtain a settlement or verdict for you.